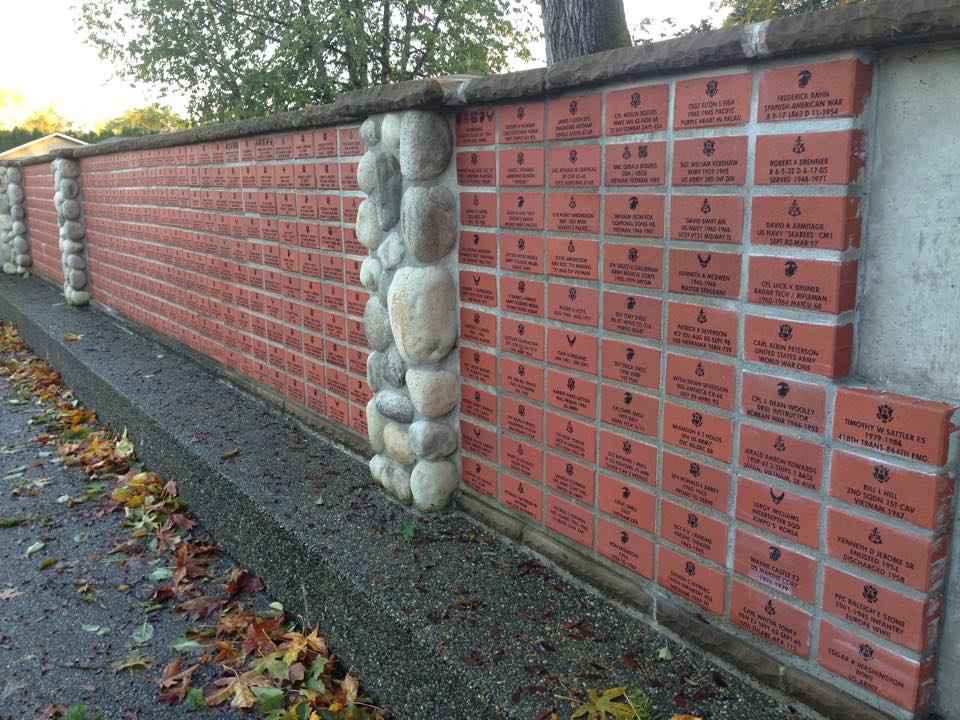 Veterans Wall
Honoring those who served us
Toledo Lions invite you to visit our Veterans Wall of Honor, located in the Kemp Olson Toledo City Park in Toledo, WA.
Toledo Lions Club built the wall to honor past and current veterans of any war, anywhere. We have more than 400 bricks installed so far.
Bricks are $100 each and feature three rows of engraved text and a military branch insignia. Forms are available at the wall, at local businesses and on this website by clicking the thumbnail form to the right.
Our wall of honor is not limited to people from the Toledo, Wash. area or to Lions Club members, and we already have bricks for veterans from all the U.S. wars as well as veterans of peacetime.
The idea for the wall came from Toledo resident Bob Schmid, who convinced his fellow members of the Toledo Lions Club to support the project.
"Whenever I see a veteran anywhere, I tell them thank you," Schmid said. "This wall is our way of honoring veterans from different areas of time."
Many local families have multiple generations of veterans listed side-by-side, and every American war or skirmish is represented by a veteran.
Toledo Lion Kendall Richardson has led the wall's design and construction through several phases.
"This wall will withstand anything, including high flood waters," Richardson said, adding that the wall's reinforced foundation could support a much larger project in the future.
"We tried to match a project we did four years prior with stone work," Richardson said, referring to the memorial for Mel Holland, a Toledo alumnus and veteran who went missing in action in Laos in 1968. Richardson said the veterans wall was designed to encompass the original memorial and continues with the same style of cultured stone features.
The core structure of the wall is completed and new bricks will be added over time as they are ordered and engraved. There are currently more than 400 engraved bricks set and there is plenty of room for hundreds more in the future. New bricks are installed just before Independence Day and Veterans Day.