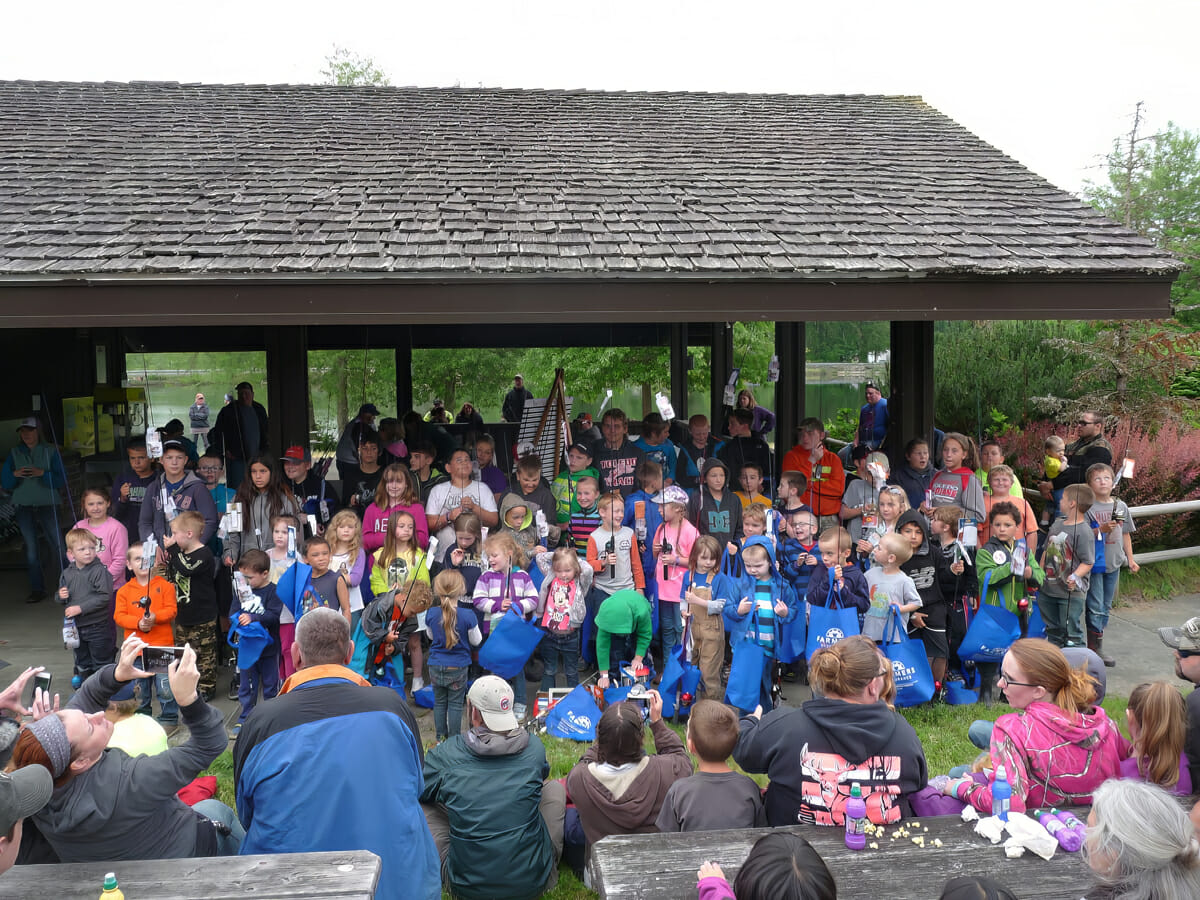 Kids Fishing Derby
Teach a kid to fish…
Toledo Lions Annual Jim & Penny Lancaster Kids Fishing Derby
On Saturday, May 13, 2023, the Toledo Lions will host their annual kids fishing derby! Each year the Toledo Lions Club organizes this event at South Lewis County Park (aka Wallace Pond), and hundreds of kids show up to attempt a shot at the top prize! All proceeds from the Derby will go to Toledo Lions Club scholarships, which are provided for community youths.
Registration:
All participating children must purchase a $1.00 Derby wristband from the Weigh-In Station, which is located at the covered picnic area prior to fishing on the day of the event. Save time and avoid the line by printing and filling out our derby registration form. Please note that all participants in the Derby must wear their Derby wristband at all times.
Things To Know:
Derby will take place at the old Wallace Pond, aka South Lewis County Pond, in Toledo on Saturday, May 13, 2023.
Gates open at 7:30 a.m.
Derby Hours: 8 a.m. to 1 p.m.
All vehicles must obtain a vehicle entry pass at the front/back gate on the day of the event for a fee of $10.00.
Air horn signifies the start of the derby at 8 a.m., and then again at 1 p.m. to mark the end of the Derby.
Rules:
NO LINES IN THE WATER BEFORE 8 a.m.
Only children ages 14 and under may participate in the Derby. All participants must be accompanied by an adult chaperone.
Youth Derby participants are not required to possess a State Fishing License. Licenses are only required for persons ages 15 or older.
Adults may assist younger children with casting and retrieving, but participant must be present and have their hands on the fishing pole when retrieving line and catch.
All state fishing regulations apply. Shoreline fishing only, no boat fishing will be allowed by derby participants. Participant must fish with only one closely attended fishing pole. One participant = one pole. No hand lines allowed.
Catch and release is strictly prohibited. Snagging of fish is also prohibited and will not qualify for prizes. Fish must be brought to the prize area for weigh-in by 1 p.m. Please note that in order for participants to qualify for derby prizes, all fish must be freshly caught and fresh in appearance.
Derby prizes will be awarded for the largest trout caught only during Derby hours on the day of the Derby. Winner must be present.
Anglers and/or persons who are found to be in violation of any fishing derby rules, local, state, or federal laws in or about event site will be disqualified from the competition. Wristbands will be forfeited and removed.
All decisions of Derby Judge, staff and those associated with the event are final.
No Refunds:
Derby will be rain or shine. For more information about the kids fishing derby or to be a sponsor, please contact organizer Mike Stover at [email protected].